Retreat to Restore Your Wellbeing
Treat yourself to a fully catered one, as per your time availability from minimum 4 days ,one week or two or three-week retreat with the opportunity to completely relax in our beautiful campus in Nature's lap. Nourish your mind and body with Yoga Classes to start your day and a relaxing Meditation session in evening , Natural Satvik food, comfortable lodging and the space and time to reconnect to your true inner self. This deeply transformative yoga Meditation retreat offers a therapeutic customized approachfor all participants and we try our level best to focus and balances all areas of their mind, body & soul by allowing them to experience not only Hatha Yoga with Patanjali -Ashtanga but also teach them – Kurunta Yoga practices ( Yoga with hanging ropes and lot of props – which becomes a perfect methodology for beginners to explore – path of harmonizing and purifying all body systems) along with Kundalini Yoga (a Royal yoga practice ) & Meditation.
These self-guided retreat opportunities are created in such a nature's lap location which is predesigned by creator for us to experience the Natural Living and offers a great opportunity to reconnect with our inner self especially during these changing uncertain times of Covid-19 . Open Hilly step Fields, Nature's Bounty – all around with a Beautiful Vllage,Jungle, Mountain peaks just around the campus makes it an ideal place to uplift life's Joy and Bliss.
More About our Yoga Campus and location — For true learning of yoga, one must prefer sacred Himalayas as this part of land has a different aura and all together a different energy to imbibe and inculcate the true spirit of Yogis and natural living.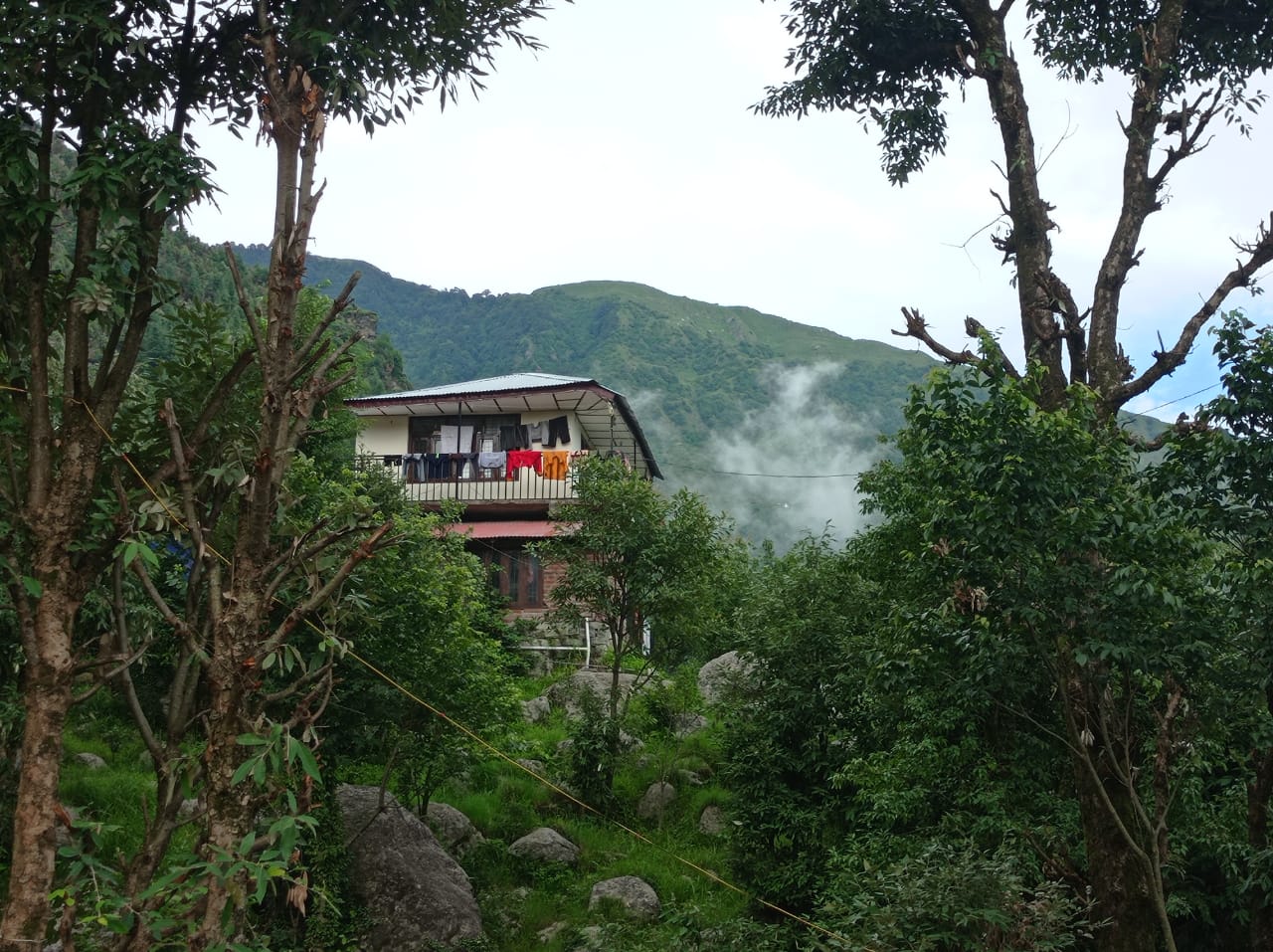 Mcleodganj – Dharamshala is the home of spiritual leader of Buddhism , the noble laureate—Dalai Lama and is a famous tourist destination in North India. The natural beauty and picturesque surroundings of Dharamshala, as well as the presence of Buddhism, has made it one of the best and most visited hill stations in the country. Dharamshala – word refers to a shelter or rest house for spiritual pilgrims. However, our Swaraj Yoga – Campus is in just nearby quiet serene tribal village Dharamkot, which has managed to maintain its quaint charm.
Kindly note that we welcome anyone interested in being in a spiritual community to explore and renew themselves. However, we are not a place for individuals who are in transition from addiction or other serious mental health issues. We do not have the resources available to support these circumstances.
We look forward to welcoming you for a rejuvenating inward experience!
What would your retreat look like?
FULLY VACCINATED RETREAT PARTICIPANTS
RETREAT DATES
All retreats can be scheduled to suit your timing, based on availability.
Available in 2022 – 15 April to Dec. 30 (Depending on availability)
RESTORATIVE RETREAT 1
We make conscious decisions in creating retreats that are enriching, Life changing and meaningful, and also affordable. All meals, comfortable accommodations in a spiritually powerful location and tuition fee for all yoga sessions and consultations are included. Those who are keen can also offer themselves for Karma Yoga in campus (selfless service).
Price
21 Days –

Shared (Basic Comfort) – ₹ 56,000
Non Shared (Basic comfort) – ₹63,000 : $805
Non-Shared (Deluxe comfort) – ₹80,000 : $990
Non Shared (Super Deluxe Comfort) – ₹ 99,000 : $1210

14 Days –

Shared (Basic Comfort) – ₹ 38,000
Non Shared (Basic comfort) – ₹41,000 : $530
Non-Shared (Deluxe comfort) – ₹59,000 : $720
Non Shared (Super Deluxe Comfort) – ₹ 70,000: $860

10 Days –

Shared (Basic Comfort) – ₹ 34,000
Non Shared (Basic comfort) – ₹38,000 : $480
Non-Shared (Deluxe comfort) – ₹43,000 : $530
Non Shared (Super Deluxe Comfort) – ₹ 52,000: $650

7 Days –

Shared (Basic Comfort) – ₹ 22000
Non Shared (Basic comfort) – ₹24,500 : $300
Non-Shared (Deluxe comfort) – ₹29,000 : $360
Non Shared (Super Deluxe Comfort) – ₹36,000 : $450

4 Days –

Shared (Basic Comfort) – ₹ 10500
Non Shared (Basic comfort) – ₹12,300 : $150
Non-Shared (Deluxe comfort) – ₹15,000 : $190
Non Shared (Super Deluxe Comfort) – ₹ 18,000 : $230
Note – couples, friends, family can share a room.
(1 Free car tour to see places in Dharamshala and guide assisted day trekking is given free with a minimum 20 Nights booking. For minimum two persons booking together and is always carried in groups if more retreat guests are staying)
Discount policy only for Indians
10% discount from 1st May to 15th July bookings.
15% discount on all other months.
No discount on shared basic comfort.
Cancellation Policy
Our revised cancellation policy for refund w.e.f 1st April 2023 is as follows —
Any time Ninety days before booking check in date
20 Percent of fifty percent paid advance as cancellation charges
Between 89 days to 30 days before booking check in date
— 40 – percent of fifty percent paid as cancellation charges
Between 29 days to
8 days –before booking, check in date
50 percent of fifty percent advance paid as cancellation charges
Between 7th days to arrival date
100 percent of fifty percent advance paid before booking check in date
If Cancellation by Swaraj Yoga Institute amount is 100% refundable
( You can opt for minimum 4 Days or 7 days or 14 Days or 21 days retreat * Sunday Yoga classes are off )
Yoga Retreat includes – Daily 2 Yoga Classes.
Skill level: Beginner and Intermediate
Daily 1 Meditation Class
You will be getting Training of yoga from Professional Renowned Yoga Expert teachers with over 15 years' yoga experience
Clean, comfortable stay (hot water / bathroom / Western toilet / sheets / pillows / blankets) double or single occupancy (Sharing) in campus surrounding in safe Tents /Home stay Rooms
Medium of instruction: English (Hindi for Indians – available)
3 healthy and delicious vegetarian Satvic meals per day, only served in Yoga centre Kitchen. No room service.
Unlimited purified water
Free Mineral, Alkaline – Magic water detox as per need prescribed by our expert once during your stay.
Free – Hot Drinks, self-service in Yoga kitchen (Indian Chai, Lemon Grass Tea, Ginger, Lemon, Tulsi, Local Herbal Tea& Black Tea etc.)
Participation in regular our ashram classes, Jam sessions, spiritual events lectures.
Use of a yoga hall for personal practice if free.
Participation in evening programs (Meditation- Trataka sessions /Mantra Chantings Aarti, kirtan )
Access to Books
Free Wi-Fi internet
Laundering Services – *You can get clothes washed – *Paid but very reasonable
Learn Music Instrument – On demand (Paid, reasonable)
Paid Trekking facility with guide assistance – Triund, Galu Mata, River trek, Sunset point, Bhagsu Falls (* One Free with trekking guide – day tour with minimum 21 Days retreat (minimum 2 person booking) )
Paid Car Sight seeing facility –Dal lake Naddi Village, Norbulingka Institute, Tapowan, Indrunag paragliding point, Museum, Famous Church , Tea Gardens, Intl. Sports Stadium (Free with minimum 21 days stay (minimum 2 person booking), * there is no paid entry ticket to the majority of these places)
Sightseeing – By foot nearby –Famous spots – Dalai Lama Temple, Mcleodganj Market, Church, Bhagsu Waterfall, Dharamkot A Tribal Village
Additional Classes to uplift your Knowledge – Yoga History philosophy, Anatomy and physiology, Chakra Study, Spiritual Healing and much more keeps on going for Yoga Teacher Training Courses held on and off in our campus and being you a guest in Yoga Vacation retreat has the privilege to Join these classes free if you wish so
Check-in Time:
12:00
Check-out Time:
13:00
During the retreat program, you will be comfortably accommodated in our approved associate Rooms. Just in walking distance around our place with all facilities as per guideline mentioned here-. The rooms are on sharing as well as the private basis with comfortable bed and bedding , Bathrooms (attached and non-attached options) and other facilities.
Tents accommodation on lower price package as mentioned in "overview and price" if available can be availed by the retreat participants. As our campus is in amidst the beauty of nature with numerous trees, flowers, Himalayan birds and farming fields all around, you can also plan and explore staying in one of our natural type accommodation with clean washrooms. Being a Yoga centre, please expect only purely ashram-like living with not too much luxury and such natural ashram environment is always conducive to encourage our yoga learning process. Although modern facilities like Wi-Fi, hot water, and much more which, we feel, is now difficult to do without for the participant are available as per need.
We represent an organic , return to nature, no harm to nature and a simpler way of living, which is very different to a hotel stay . We are confident that you would love and appreciate this dimension of living too which is more real and close to nature means close to our inner core – our bliss body. Generally, there is a more community type atmosphere and so often an expectation that students/ guests will also pitch in to help our workers, to help campus function smoothly. Like washing your utensils after taking meal. Respect each other philosophy to make it a memorable experience for all present around us without any Anger.
Facilities
24-hour hot & cold water
Filtered – Free Drinking water
Free Detox at our place only – Alkaline Mineral magic water to detox as per individual Needs
Attached and Non attached bathrooms
Blankets, mattress, sheets, and pillow
Free Detox Tea – Max Three
Common Dining area along with – Traditional Old Himachali Village Type – Rustic Kitchen
Laundry service – Available on reasonable payment – near to campus
Health & Hygiene
Offering our guests/students a clean campus is our utmost priority
Uses cleaning organic &Govt prescribed mixtures that are effective against various Flu & coronavirus.
Linens, towels, and laundry washed in line with local authority guidelines. Laundry Charges are Extra.
Room cleaning shall be done by the participants themselves
The new norm of Physical distancing is a practice we all must agree upon
Cashless payment available.
Safety features
Hand sanitizer available in key areas.
First aid kit available.
Protective masks are to be arranged by retreat participants themselves.
Note – Only fully vaccinated Students/Guests are welcome to apply
Our RULES – Once you book your retreat or a Yoga Course , the guest should be happily ready to adhere to following rules in campus as a Yoga family member –
Since Swaraj Yoga Inst & wellness retreats is a Yoga oriented campus and not a guesthouse, we expect from all our retreatants and guests to watch the accompanying standards. keeping in mind the true goal to keep up a environment helpful for internal reflection for all present in the campus :
1.) Yoga Students/Guests kindly don't enter the Kitchen. But occasionally, if you have been permitted to cook of your choice is ok.
2.) To help us to promote sattvic eating – no meat, fish or any non veg food are permitted.
3.) Practicing quietness in all classes is appreciated but personal queries can be raised after the class
4.) We need to assure the wellbeing and safety of our Yoga Students/Guests. Subsequently, we request you to come back to the campus not later than 10 pm.
5.) All Yoga Students/Guests are expected to take part in Yoga classes , Meditation sessions and prayers held from day by day. No exemptions other than permitted because of some health issue.
6.) Smoking, Alcohol, and Drugs of any sort are entirely not permitted.
7.) To keep up quiet condition Please keep all music at a lowest level in your accommodation and no music device allowed to play after 10 pm.
8.) This is your own campus, We request all students / Guests to help , respect each other to maintain a conducive one family like environment and maintain a perfect environment of love care and peace in the campus and their accommodation. No Anger is allowed.
10.) Please participate and help us to maintain cleanliness as Karma Yoga is the best way to give back as your Seva to yoga campus.
11.) Avoid obscene gestures, massages and other physical presentations of fondness in the campus
12.) Use Respectfully dresses. (One must avoid shirts over the knee, Tank-Top Shirts or Tight and uncovering apparels).
13.) The friends, relatives, and outsiders related to students / Guests are not permitted to visit any accommodation inside the campus but can visit and meet the desired person in the reception area.
14.) Every individual will wash his own particular garments in the clothes washer and he/she will dry themselves.
15)People are not permitted to share or change the accommodation without prior approval and sometimes required by campus circumstances, Your accommodation can be changed .
Basic Comfort Rooms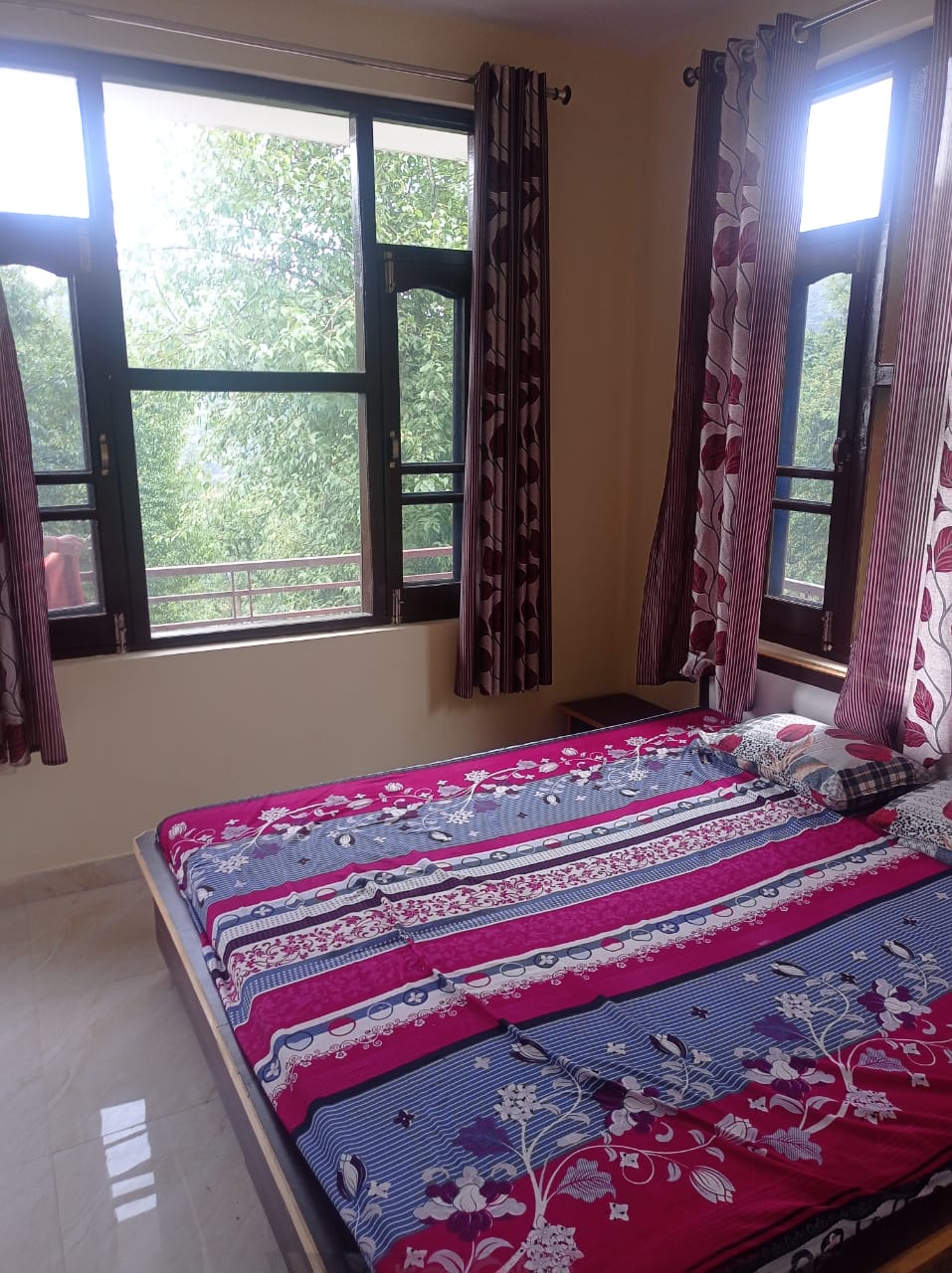 Deluxe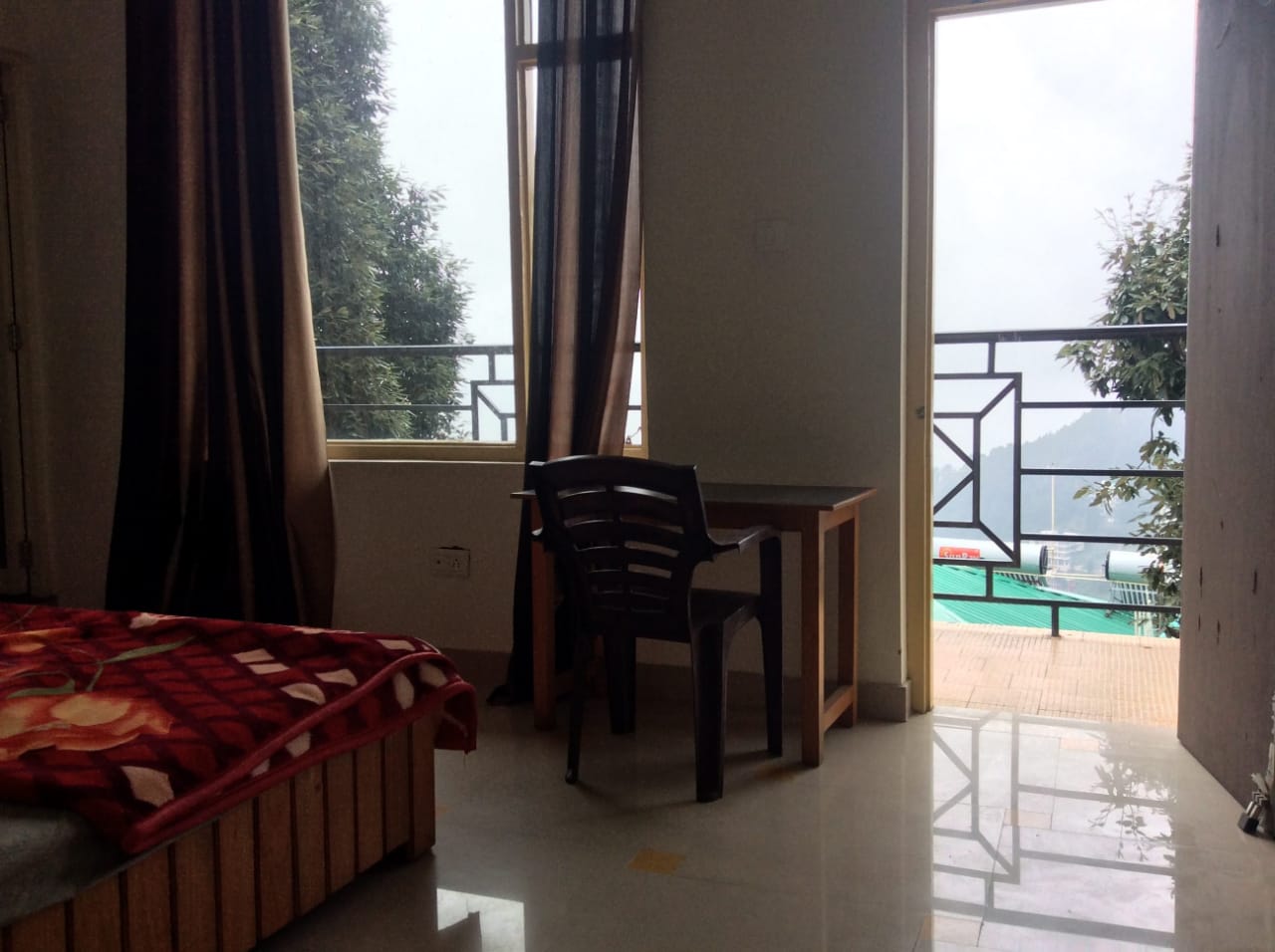 Super Deluxe