Program Highlights: Yogic Management of your Disease –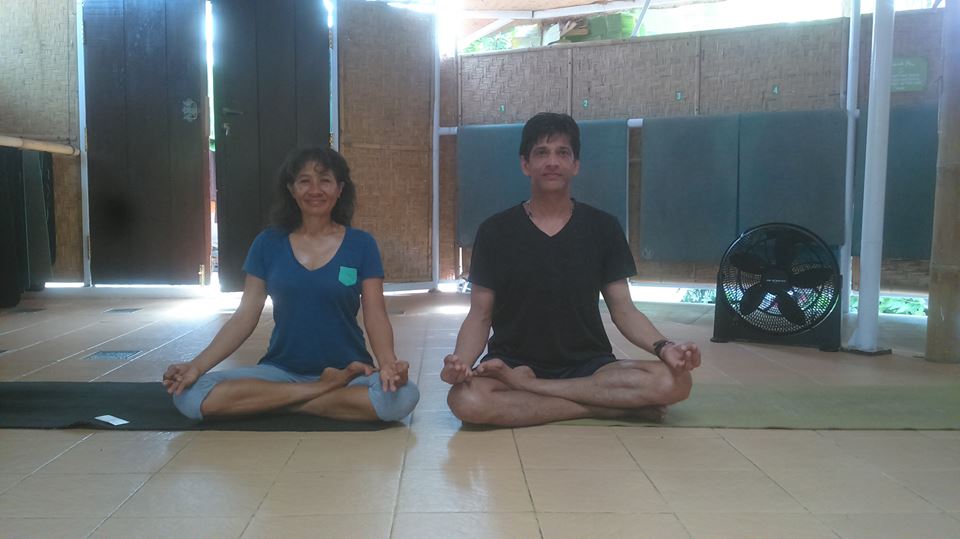 Get healed by experienced sacred hands of Master Swaraj –
Several Years of experience of handling numerous patients with typical Lifestyle diseases through yogic management of common disease methodology is an expertise area of our Master Teacher Anil Swaraj with decade of Hands on experience. So, Yoga for diseases is a customized need based yoga program with minimum one week course, where you shall be guided personally by Our Master Teacher – Anil Swaraj to create a whole – whole day holistic daily regime for your Disease symptoms management comprising of Yoga Asana Pranayama & other Yogic Kriyas to help you finally to get rid of all physical challenges. Your mind shall also be engineered by our Master to learn on – How to give directions to Prana- Life energy for self management (Quantum Healing ) & cure of your own disease. Participant's personal commitment to follow instructions given, dedication and involvement is utmost important to gain maximum positive results on his or her health.
Online consultation with Fee per session is also available.
Basic Feedback sessions – You are heard patiently to understand your pain and sufferings minutely. The whole program is customized after understanding your medical history and profiling of Your current health status where you will be giving us all information verbally and also through a Dosha profiling form .Once we understand your whole constitution of body , Master Yoga teacher shall make a regime as per yoga principles to work for your health betterment at Physical Mental and spiritual level –
You shall be learning specific designed Yogic sequence for your better Physical and mental health with a sense of positive future to live happily under all circumstances and challenges thrown by unpredictable Life ,and ultimately to help you lead yourself for true salvation –
Asanas: Physical body postures for your specific disease alon with self posture corrections are taught to create perfect body posture .
Pranyama: to purify body to manage & get rid of painful -Disease symptoms .
Shatkarma: Cleansing of various body systems through art of Shatkarma practices.
Mudras and Bandhas – You are given a set of Hand Mudras to practice and Life energy awakening kriyas – Kundalini Shakti Jagran Postures to heal yourself faster with the Master's Gracious presence .
Mantras– Sounds / Beeja Mantras / Prayers with mantra Chanting are jointly practiced for spiritual healing.
Psycho therapy sessions (Quantum Healing ) : Special interactive sessions are given to eliminate all ill effects on your mind because of disease or otherwise to bring mental clarity and make you learn and adapt self Quantum Healing Process for the ongoing disease and to even manage future sufferings .
Panch Mahbhutam Therapy – You will made to understand , Sense feel experience and live practically with these five sacred elements of our existence – Ether, Air , Fire ,Water & Earth during the program .
Ahara (Diet) – Complete knowledge of food ingredients – what to eat is good for you will be not only taught but will be shown & given to you to eat during your program and inculcation shall be created to take it back to home with you forever. Pathya and Apathya ahara shall be clear to you before the program ends.
Self Abhyanga – Art of Self Massage is a form of Ayurvedic therapy that involves massage of the diseased area or even entire body from the head to the toe with Dosha-specific warm herb-infused oil. You shall be learning and applying various massages yourself under the guidance of Master .
Sleep – Yogic Practices (kriyas) for How to create a perfect sleep cycle shall be taught .
Other Gifts of the program – The program will not only ease your disease status but we are sure that you will carry other gifts as an end result of the Yoga program like Maitri ( Universal Friendship ) , Karuna ( Compassion ),Mudita (Art of being happy in happiness of others ), Upeksha ( No preferential treatments ) too for your ever blissful happy healthy future .
Start Dates
Every Monday of May to Nov Months —Dharamshala
To book- whats APP – 94191 73617
Pay by Paytm / Gpay — Logos
Slip Disc/Sciatica/Back Pain
PCOD/PCOS/Utero ovarian Issues
Thyroid issues / Hhpo or Hyper
Depression/Insomnia/COD
Ectopic Pregnancy
Yoga for Infertility
High BP /Low BP Management
Arthritis
Diabetes – Type 2
Cervical/Frozen shoulders
Spinal Cord Issues
Bell Palsy
Xerostomia
Tachycardia /Bradiardia
High BP / Low BP
Sinusitis
Weight Gain / Reduce
Common Skin Issues / Lichen Planus
Liver Issues / Fatty Liver etc.
Knee Pain / PCLT/ACLT
Sleep Apena
Asthma /Respiratory Issues
Indigestion—Gas /Acidity etc
Short & Long Sightedness
Healthy Heart Yoga
Migraine /Headaches
Vertigo
Menstrual Discomforts
Recovery after Chemo or Radiation
Multiple Sclerosis
Sinusitis
Pricing – Discounted Price For National and International participants :
Course Fee without stay and food – offline -2 hrs per day -Five days a Week – (INR): 5000 INR
Online/Offline one Consultation Session 30 minutes – Rs 500 /- ( For booking whatsapp on our official Number – +91- 9796471111 )
Pricing course with shared accommodation Stay and Food- 6 Days – Dharamshala India Campus : Indians – Rs 13500/-
* Non Shared accommodation – Rs 18500/-
Foreigners – Rs 17500 * Non-Shared Accommodation – Rs 21500
Discount for extended stays of 20 percent from second week onwards .
Needy Poor Person : Totally Free Course – online or Offline ( No stay is given )
What's not included
Bus, railway or Airways fare
No insurance , medical or visa fee
Yoga books( But available on nominal price cost to cost )
Cancellation/Refund Policy
A Booking / reservation requires a deposit of minimum 50% of the total price as per course options opted . Remaining payable before joining the class .
For cancelling the registration before the start of the course, the original payment will be refunded less:
15 % ie. INR payments of the payment made – any time after booking until three months
25 % after 3 Months to the start of course date
Full refund will only be granted where SYIWR has had to cancel the programme.
Foreign Students – PLEASE ENSURE THAT TRAVEL AND ANY NECESSARY VISA ARE POSSIBLE BEFORE REGISTERING.
Daily Schedule for offline campus participants at Dharamkot – Mcleoganj ,Dharamshala centre
Daily schedule – Standard –
Note : A little change as per health conditions can be planned at the time of joining the program
06:30 am Herbal Pure Natural Tea
07:00 am Detoxification cleanse practices – followed by Pranayama – Breathing and meditation
07:30 am Hatha – Ashtanga – Traditional yoga – Asana Practice classes
09:30am Breakfast
10:30 am Abhaynga – Massage, Ahara Understanding for your disease , Posture corrections / Panch Bhutam Therapies
11:30 Self-alignment practice
12:30 p.m Lunch
13:30 Free time – for nature walks
14:30 Tea
16:30 Psycho therapy sessions – Quantum Healing
6:30 Mantra – Meditation – Mantras/ Beej Mantra practices for specific diseases, Yog Nidra Tratka – Kriyas
7.30 pm Dinner
22:00 Lights off
Check-in Time:
12:00
Check-out Time:
13:00
During the training program, you will be comfortably- accommodated with eco friendly type accommodations and if all booked then you shall be accommodated in our approved associate Rooms just in walking distance around our place with all facilities as per guidelines mentioned here- . The rooms are on sharing as well as the private basis with comfortable bed and bedding , Bathrooms ( attached and non attached options ) and other basic facilities .
Note : Stay and Food – In this program we always try to accommodate you in our campus or will arrange accommodation just around us. Sattvik Food as per your Ayurveda dosha profiling and as per your disease shall be provided by our kitchen .
Tents , Mud Houses, Tin Cabins – accommodation –
As our campus is amidst the beauty of nature with lot of trees ,flowers , Himalayan birds and farming fields all around ,you shall be staying in one of our natural type accommodation with clean wash rooms .
Being a Yoga centre , please expect only purely Yoga ashram-like living with not too much luxury and such natural ashram environment is always conducive to encourage our yoga learning process . Although modern facilities like Wi-Fi, hot water, and much more which we feel is now difficult to do without for the participant are available as per need .
We represent an organic , return to nature, no harm to nature and a simpler way of living, which is very different to a hotel stay . We are sure that you would love and appreciate this dimension of living too which is more real and close to nature means close to our inner core – our own bliss body . Generally there is a more community type atmosphere and so often an expectation that students/ guests will also pitch in to help our workers to help campus function smoothly under Good Karma . So make it a memorable learning experience for yourself and all present around without any Anger .
Facilities
24-hour hot & cold water
Filtered – Free Drinking water
Free Detox at our place only – Alkaline Mineral magic water to detox as per individual Needs
Attached and Non attached bathrooms
Bed with Blankets, mattress, Bed sheet only – No towel or any toiletries are given * Student should buy such stuff themselves .
Free Detox Tea – Max Three
Common Dining area along with – Traditional Old Himachali Village Type – Rustic Kitchen
Laundry service – Washing Machine available and also Available on reasonable payment – very near to campus
Health & Hygiene
Offering our guests/students a clean campus is our utmost priority
Uses cleaning organic &Govt prescribed mixtures that are effective against various Flu & coronavirus .
Guest accommodation is disinfected periodically during stay tenure or whenever needed .
Equipment like props ropes and others used for activities are disinfected before and/or after use.
The new norm of Physical distancing is a practice we all must agree upon
Cashless payment available.
Safety features
Hand sanitizer available in key areas.
Process in place to check the health of participants
First aid kit available.
Protective masks are available for all staff and students
Note – Only fully vaccinated Students/Guests are welcome to apply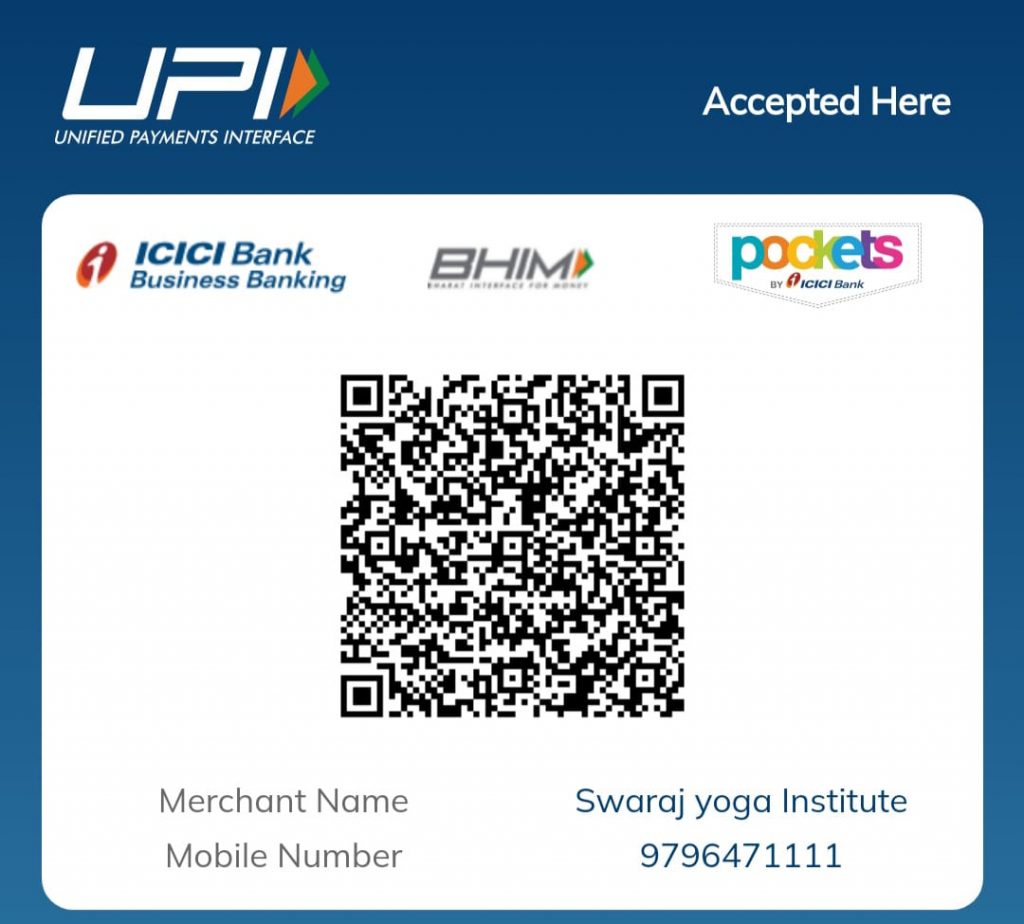 For International Students
ICICI Bank limited
Swaraj yoga Institute and Wellness Retreats
Current account no
104105001096
IFSC code
ICIC0001041
Swift code: ICICINBBNRI