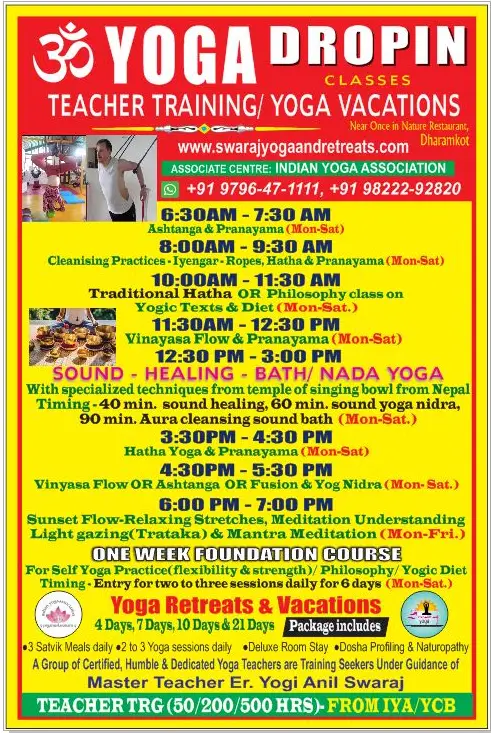 Short on time? Here is an economical class to fit your practice of asana, pranayama and relaxation into your daily schedule with the guidance of an experienced and inspiring humble Yoga teacher.
Yoga Drop in classes schedule
Daily Deep immersion Health Restoration
8 am to 9.30 am | 4 pm to 5.30 pm –
Fee Rs 500
With cleansing practices
Jal neti (Nostril Irrigation) and Netar Dhoti (Eye cleaning)
Fee – Rs 600

Multistyle yoga class -Fusion of best of all yoga practics ,Hatha yoga, Vinyasa, Iyengar inspired Aerial with ropes ,Bio feedback self healing ,Mantra chanting,Heart purification & prayers for Humanity
Mon- Saturday
Yoga for Mental Peace – drop in class –
Mon to Friday
Time – 6pm to 7 pm
Fee Rs 400
Suksham Asana – Light strechings , relaxation practices ,Pranayama,light Gazing with meditation – Trataka ,,Heart 💖 Purification Meditation , Agnihotra (Sacred fire 🔥 prayers ).
One-to-one yoga session available for people suffering from Depression ,bipolar ,OCD, Anxiety etc .
Sunday closed
Practice with us to experience, explore and transform your soul.
Om.shanti
www.swarajyogaandretreats.com
+91 9796471111